Use Modern Aluminium Windows To Decorate Your House
ArticelDetailSoure:Jihua
Date:2022/11/02
What The Features of Modern Aluminum Windows ?
Modern Aluminium Windows are very durable and flexible. The aluminium frames can fit into brickwork seamlessly and are available in a range of colours. This gives your home a light and airy feel. They are also extra durable and lightweight. These windows also ensure minimal temperature changes. Therefore, you can rest assured that your house will be safe from unwanted intruders. Besides, The main feature of modern aluminium windows is their high thermal efficiency. These windows are made of polyamide, which is more brittle than PVC and has a much lower thermal conductivity than glass.
Hence, they are great for homes with wide external views. The windows do not have bulky frames, which make them suitable for conservation areas. They also have a very low carbon footprint. As such, they are highly cost effective. Jihua modern casement windows is their flexibility. They can be designed to fit any architectural style, from modern to traditional. The choice of colour and material is extensive. The combination of a thermally insulated frame and a good specification glass unit gives the windows the highest energy efficiency. Most of the products come with double glazed units, argon gas fill, and soft-coat low-emissivity coatings.
Many modern windows use aluminium as the material, which is an excellent conductor of heat. But the drawback of aluminium windows is that they are not very energy efficient. They are also prone to damage from the elements and need regular maintenance. For instance, they rattle a little in high winds and might need a new coat of paint every few years. The material is also very malleable and flexible, making it possible to extrude it into complex window structures. These windows also make use of continuous hollow intrusions called screw splines, which connect the horizontal and vertical frames. They are very durable and offer a high level of thermal efficiency. They are also cost effective and flexible, enabling them to be adapted to the needs of many home owners. Aluminium is a malleable metal that allows it to be shaped into complex cross sections for efficient window structuring. Its hollow nature allows the use of screw splines to connect the horizontal and vertical frames.
Modern Arts of Aluminum Windows For House
The windows in our homes are much more than their ability to provide cross ventilation and natural light. They add value to any mansion and greatly influence the design, look and aesthetics of the place. Additionally, windows can add character to your interior and are often a comfort to many. These fascinating structures can be made from a variety of materials such as wood, uPVC and aluminum. Wooden doors and windows have long been a staple in most homes as they bring old world charm and a traditional look to the home. However, with the rise of modern architecture and design, while wood still holds a special place in the hearts of homeowners, other materials like aluminum are also gaining popularity. Metal has grown in popularity due to its many properties, and aluminum windows have become a favorite among homeowners.
Aluminium windows offer a huge range of aesthetic options. They mimic the look of steel and achieve excellent thermal performance. They are suitable for restoration projects, civic projects, and renovations. They also create a timeless effect when combined with ornamental brick facades. Their sleek frames contrast with coarse facade elements. With a wide range of colours available, they can easily blend in with any home. They are also resistant to corrosion. Unlike wooden windows, they do not need painting. However, they do need regular maintenance to prevent them from deteriorating. Compared to steel windows, aluminium windows profiles are much more durable. Moreover, these windows are highly secure. The frames are often painted in the colour of your choice. Besides, The benefits of modern aluminium windows are many.
For one thing, These windows are able to combine beautiful designs with expert engineering. They can last for a long time and are ideal for contemporary applications. Aside from their superior durability, modern aluminium windows also have many aesthetic benefits. Apart from being energy efficient, they also feature slim and sleek appearances that match the style of your home. In addition to that, they also have a draught-free design. For another, JIHUA's modern aluminium windows are highly stylish and versatile, and are suitable for many contemporary applications, including SIPS houses and large glass feature windows. In addition, they are light in weight, low in size and form-stable. They are also aesthetically pleasing and environmentally-friendly. And, their exceptional customer service makes them the preferred option for many home owners. They have a great variety of advantages. This product will give your home an unmatched finish, which will be durable for years to come.
Aluminum windows have become one of the most popular window options in the US or UK due to the various benefits they offer. They are economical, strong and durable, while combining functionality and versatility with an elegant and modern touch. Aluminum windows offer a very durable and economical solution for residential and commercial buildings. They are low maintenance, last a lifetime, rust free and even have a high corrosion resistance threshold. Aluminum windows are available in standard sizes, but can also be custom sized and designed to meet your specific needs. They are available in a variety of finishes to match your style. The most popular options are natural anodizing (silver) or our standard powder coat colors - namely white, bronze, charcoal (dark gray), black and new silver. Other than that, for larger batches, you can paint your door jambs in almost any color imaginable to suit your style ! of course, if you have interest in the aluminum casement windows from Jihua, we also have detailed information as follows.
What The Features of Aluminum Casement Windows ?
Casement windows are also called projection or sash windows. A sash is an opening that protrudes from the outer frame of a window. Casement windows can come in two forms: sash and sash. The sash of a sash window is attached to the top of the outer frame and opens upward. For casement windows, the sash opens to the left or to the right. Projection aluminum casement windows. The beauty of casement windows is that their design allows precise control of wind, rain and ventilation. They are especially useful when installed on the weather side of a building, as they keep rain out and allow you to control the amount of wind that comes in.
You can open them slightly to allow air to circulate, or leave them open up to ninety degrees. When it rains, you can open them to any angle you want to let in the breeze but not the rain. These types of windows are great if you want to use cross ventilation to cool your home. Casement windows up to 2.4m wide and 1.8m high. Their maximum sash size can be 600 mm wide and 1200 mm high. On top of that, you can combine these windows with sidelights or dome lights (explained later). They are suitable for rooms like your home office, living room, bedroom and kitchen.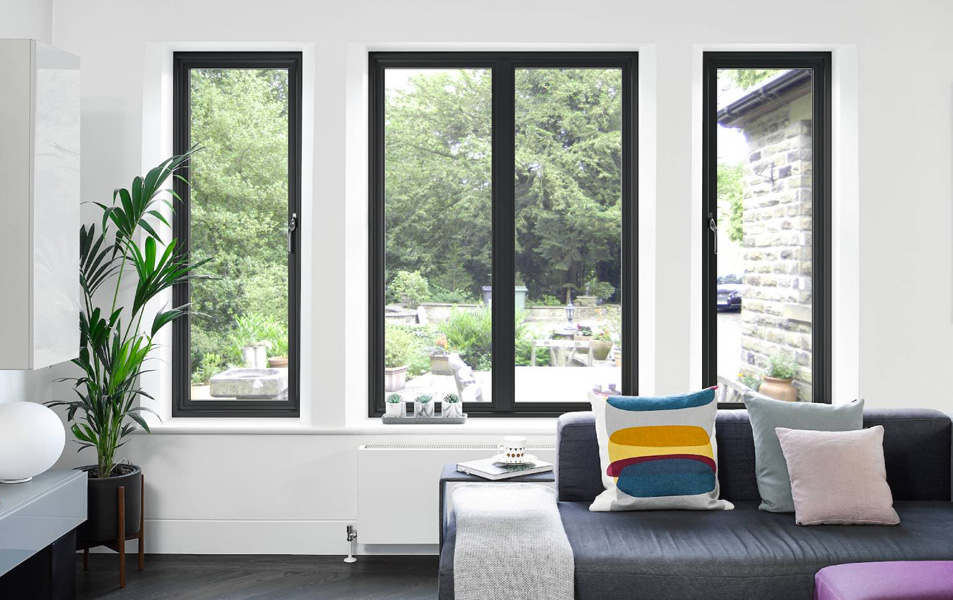 Unlike other windows, aluminum casement windows are attached to their frames with hinges. These windows feature large opening areas and are popular for their good sealing and ventilation capabilities. The windows are available in different finishes and colors. Many people choose to use neutral colors to enhance the look of their homes. Colors like gray, black, and white are popular in suburban and modern homes, and they can also be used in offices. If you want a timeless look, you should consider choosing white.
These windows are highly durable and come in a variety of styles. For example, there are models that feature a double pane or a triple pane of glass and can also have a tilt and turn mechanism. Jihua aluminium casement window can be opened to 100% of its size. It is a good choice for large rooms that require a lot of fresh air. If the wind is blowing in the right direction, they will also be a good breeze catcher. In addition, these windows are made of high quality hardware and can withstand daily use and aging. Therefore, these windows are ideal for commercial buildings and residential structures.
The frame of modern casement windows is made of aluminum alloy, and the mesh material is fiberglass or stainless steel. These windows are available in a variety of styles and can also be customized to suit your home's internal and external design. They are easy to open and can be fully extended. They also come in different sizes to suit various spaces and architectural styles. Their glass choices include laminated glass or tinted glass. Plus, they're easy to clean and can add natural light to any room. What's more, the grille is made of fiberglass or stainless steel. The surface treatment of the mesh is electrophoresis, powder spraying, wood grain or fluorocarbon spraying. They have different color finishes including silver, bronze and black. The glass in these windows can be made of different materials, and the thickness of the glass can be five or eight millimeters. Some even have sliding screens to prevent the room from getting too hot or too cold.
Another reason to choose casement window constructionis their modern look. They combine classic architecture with modern elements. If you are looking for a modern and clean look, casement windows may be the right choice for you. This style of design flexibility is unmatched by any other type of operating window, and it's a great choice for any family. It will be a wonderful addition to your home and will perfectly match the style of your home. Aluminum casement windows come in many styles. You can find them in many different colors and styles, as well as grilles and profiles to match any decor. Some styles are contemporary, while others are more traditional. Choose whichever style best fits the look of your home. No matter what you choose, you're sure to find something that's perfect for you. If you're looking for a traditional window style, you might want to consider a tilt-and-turn casement window. These windows offer ventilation through a special mechanism. These windows can also be made with a flush frame, allowing them to blend seamlessly with your curtain walling.
Contact Us
Guangdong Jihua Aluminium Co., LTD.
We provide customers with quality products and services.
If you would like to leave us a comment please go to contact us
© 2023 Guangdong Jihua Aluminium Co., Ltd. All rights receive.