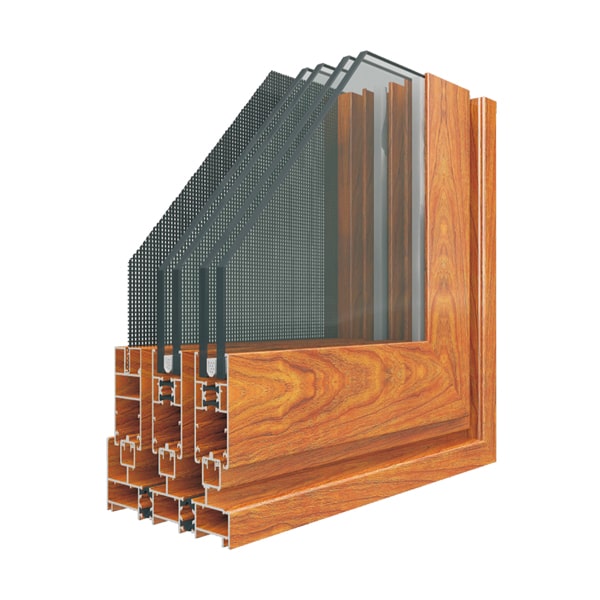 Aluminum XM88-133 Insulated Sliding Window
Opening Style: Sliding
Alloy & Temper: Aluminum 6063-T5
Size: As per drawing
Surface Treatment: Powder coated, Electrophoretic coated, PVDF coated, wood transfer
Quality Standard & Certification: GB/T5237-2017, AAMA, CQM, Qualicoat, SEASIDE
Class Option: Double glazed: 5-9 (or 12)-5mm
Low-E: Tinted/frosted/obscure
Hardware: CMECH, KIN LONG, Roto, SIEGENIA
Payment Term: T/T (30% advance payment/deposit by T/T, and 70% paid against copy of B/L afters)
Delivery Terms: FOB, EXW
Profile Processing Cutting
45 Degrees Angle Cutting
End Face Milling of Middle Column
Profile Lock Body Corner Connector Punching
Open Screw Holes for Hardware Fittings
Cutting Corner Connector
45 Degrees Profile Impact Corner Connector
Doors and Windows Assembly
Stick Protective Film
Install Glass Glue
Door and Window Installation and Debugging
Finished Product Debugging
Check the Size
The Finished Product Delivery
Features
This slidng window does not occupy indoor space.The stainless steel mesh is strong and durable, and the window sash is locked with multipoint lock. More stable, better anti mosquito and anti-theft. Three rails thermal break sliding window with screen. The upper rail is equipped with anti sway parts, which can effectively prevent swing or shaking caused by large size or wind pressure.The bottom rail adopts a variety of rail design assembled, which can increase the sealing and waterproof, more stable, smoother and lighter. Its gorgeous appearance, high precision, smooth opening and closing, suitable for home decoration, office building, etc.
Performance
Air Classification Class 6 (m³/m•h)
Water Tightness Class 4: 450 Pa
Wind Resistance Class 6: 3.5 kPa
Soundproof Class 4: 35 dB
Thermal Transmittance Uf Class 4: 3.0w/(㎡•k)
Description
If you are looking to find an aluminum sliding window supplier then chances are you are in the market for a new one. The market is saturated with suppliers of aluminum and they are all trying to make a name for themselves. This can be rather intimidating to the consumer as they do not know where to start or who to turn to for their next purchase. This article will help you in narrowing down your choices and hopefully save you some time and headaches in the end. So, without further adieu, here are some tips on how to find a quality aluminum sliding window supplier:
Do your research - It is important that you do your research before purchasing any product. In the case of an aluminum sliding window supplier, you should first visit several sites. Look at more than one company. Learn about the products and prices from each site. Then compare them. This will help you narrow down your choices.
Contact them - Now that you have narrowed your choices down to a few companies, it is time to contact the aluminum sliding window supplier. Most companies are more than willing to answer your questions. However, they might want to see a copy of your warranty prior to answering your questions. If they refuse to provide you with such information, then you might want to consider finding another company. A simple phone call to your preferred window supplier will get you the answers that you need.
Ensure they are licensed and insured - You want to find an aluminum sliding window supplier that is insured and licensed. This way you can rest assured that if anything happens to the product, you will be covered. Be sure to also inquire about the company's experience and background. Find out what kind of services and maintenance programs they offer.
Ask for discounts - Finally, make sure to ask about any possible discounts. Some aluminum sliding window suppliers may offer special deals if you purchase more than one unit. Keep in mind that some insurance policies do not cover injuries caused by sliding glass so this is something to confirm with your insurance provider.
Once you have chosen the company that meets your needs, all you have to do is install the units. Most customers choose to hire a local professional to complete the installation work. However, installing aluminum sliding window panels is fairly easy and inexpensive. However, do not try to cut corners on the materials. The product is meant to be strong and durable, so be certain that you buy the highest quality you can afford. Choosing a reputable company will help to ensure you get the best products and installation for your aluminum sliding window solution.
Contact Us

Guangdong Jihua Aluminium Co., LTD.
We provide customers with quality products and services.
If you would like to leave us a comment please go to contact us
© 2019 Guangdong Jihua Aluminium Co., LTD. All rights receive.